Hello All, I have 8 book here for you today. Let's get to it!
Long May She Reign by Rhiannon Thomas.
The Girl of Fire and Thorns meets The Queen of the Tearling in this thrilling fantasy standalone about one girl's unexpected rise to power.

Freya was never meant be queen. Twenty third in line to the throne, she never dreamed of a life in the palace, and would much rather research in her laboratory than participate in the intrigues of court. However, when an extravagant banquet turns deadly and the king and those closest to him are poisoned, Freya suddenly finds herself on the throne.

Freya may have escaped the massacre, but she is far from safe. The nobles don't respect her, her councillors want to control her, and with the mystery of who killed the king still unsolved, Freya knows that a single mistake could cost her the kingdom – and her life.

Freya is determined to survive, and that means uncovering the murderers herself. Until then, she can't trust anyone. Not her advisors. Not the king's dashing and enigmatic illegitimate son. Not even her own father, who always wanted the best for her, but also wanted more power for himself.

As Freya's enemies close in and her loyalties are tested, she must decide if she is ready to rule and, if so, how far she is willing to go to keep the crown.
A Conjuring Of Light by V.E. Schwab.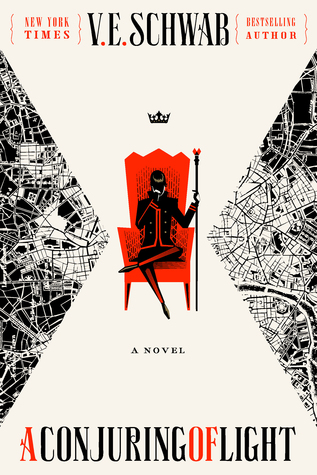 The battle between four magical Londons comes to a head in this stunning finale to the New York Times bestselling Shades of Magic trilogy by rising star V. E. Schwab.




London's fall and kingdoms rise while darkness sweeps the Maresh Empire—and the fraught balance of magic blossoms into dangerous territory while heroes and foes struggle alike. The direct sequel to A Gathering of Shadows, and the final book in the Shades of Magic epic fantasy series, A Conjuring of Light sees Schwab reach a thrilling culmination concerning the fate of beloved protagonists—and old enemies.
The Dragon's Price by Bethany Wiggins.
Fans of Julie Kagawa's Talon and Renee Ahdieh's The Wrath and the Dawn will devour this action-packed fantasy adventure about a girl who chooses to surrender herself to a deadly dragon rather than marry an enemy prince.

When two warring kingdoms unified against a deadly menace laying waste to both their lands, they had to make a choice: vow to marry their heirs to one another, or forfeit their lives to the dragon.

Centuries later, everyone expects the sheltered princess Sorrowlynn to choose the barbarian prince over the fire-breathing beast—everyone, that is, except Sorrow, who is determined to control her own destiny or die trying.

As she is lowered into the dragon's chamber, she assumes her life is over until Golmarr, the young prince she just spurned, follows her with the hopes of being her hero and slaying the dragon. But the dragon has a different plan. . . .

If the dragon wins, it will be freed from the spell that has bound it to the cave for centuries. If Sorrow or Golmarr vanquish the dragon, the victor will gain its treasure and escape the cave beneath the mountain. But what exactly is the dragon hiding?

There are no safe havens for Sorrow or Golmarr—not even with each other—and the stakes couldn't be higher as they risk everything to protect their kingdom.
Dreamland Burning by Jennifer Latham.
Some bodies won't stay buried.
Some stories need to be told.

When seventeen-year-old Rowan Chase finds a skeleton on her family's property,
she has no idea that investigating the brutal century-old murder will lead to a summer of painful discoveries about the past… and the present.

Nearly one hundred years earlier, a misguided violent encounter propels seventeen-year-old Will Tillman into a racial firestorm. In a country rife with violence against blacks and a hometown segregated by Jim Crow, Will must make hard choices on a painful journey towards self discovery and face his inner demons in order to do what's right the night Tulsa burns.

Through intricately interwoven alternating perspectives, Jennifer Latham's lightning-paced page-turner brings the Tulsa race riot of 1921 to blazing life and raises important question about the complex state of US race relations – both yesterday and today.
Beautiful Broken Girls by Kim Savage.
Mira and Francesca Cillo—beautiful, overprotected, odd—seemed untouchable. But Ben touched seven parts of Mira: her palm, hair, chest, cheek, lips, throat, and heart. After the sisters drown themselves in the quarry lake, a post-mortem letter from Mira sends Ben on a quest to find notes in the seven places where they touched. Note by note, Ben discovers the mystical secret at the heart of Mira and Francesca's world, and that some things are better left untouched.
Everything Beautiful Is Not Ruined by Danielle Younge-Ullman.
Like Wild for teens! In the tradition of Sara Zarr and A. S. King, a girl must survive an extreme wilderness experience to prove to her mother that she has the strength to pursue her dreams.

When she was a little girl, Ingrid's entire world was her mother: Margot-Sophia, the brilliant and sophisticated opera star. So when Margot-Sophia loses her singing voice, Ingrid loses everything. The two of them move to a small, normal house in a small, normal town, where Ingrid tries to convince her mother that there must still be something worth living for.

It's in this small, normal life that Ingrid discovers her own passion for the theater arts. But Margot-Sophia refuses to support her daughter's dreams. They strike a deal: if Ingrid makes it through a summer of an extreme wilderness experience, then she can have her chance to pursue life as a performer.

Over the course of this summer, Ingrid is stripped of every dignity and freedom. But she also finally comes to terms with her inner demons—and finally confronts the secret tragedy that defines her.
Optimists Die First by Susin Nielson.
Award-winning author Susin Nielsen has written a laugh-out-loud and heartrending novel for fans of Robyn Schneider's Extraordinary Means and Cammie McGovern's Say What You Will.

Beware: Life ahead.

Sixteen-year-old Petula de Wilde is anything but wild. A former crafting fiend with a happy life, Petula shut herself off from the world after a family tragedy. She sees danger in all the ordinary things, like crossing the street, a bug bite, or a germy handshake. She knows: life is out to get you.

The worst part of her week is her comically lame mandatory art therapy class with a small group of fellow misfits. Then a new boy, Jacob, appears at school and in her therapy group. He seems so normal and confident, though he has a prosthetic arm; and soon he teams up with Petula on a hilarious project, gradually inspiring her to let go of some of her fears. But as the two grow closer, a hidden truth behind why he's in the group could derail them, unless Petula takes a huge risk. . .
On Through The Never by Melissa E. Hurst.
In this sequel to The Edge of Forever, Bridger and Alora are once again in a race against time but with even higher stakes than before.

In 2013, Bridger and Alora found a way to prevent Alora's murder while still preserving the timeline. Alora is safe and both Bridger and Alora are back in 2147. There's just one problem—they don't remember any of it.

Ten months after returning to their own time, Bridger and Alora are strangers to each other. Unknown to them, the Department of Temporal Affairs erased their memories and lied about what really happened. After finally being allowed to return home with her mother, Alora finds a Mind Redeemer hidden in her belongings, along with a note instructing her to find Bridger.

With the return of their memories, Bridger and Alora are determined to uncover the truths that have been concealed from them. In the midst of escalating tensions with Purists, people who oppose all forms of genetic modifications, Bridger and Alora learn about a bioweapon attack that could take place in the near future—an attack that will wipe out most people with genetic modifications, including all Talents, and that will lead to a world-wide war unless it's stopped.
Which one are you most excited for?