Hey! 2016 has been an awesome year for books, but 2017 has some good reads to offer as well. Here are seventeen of my most anticipated reads for 2017!
The Gatlon School For Vigilantes by Marissa Meyer.
There are two rival schools in Gatlon City: the respected and exclusive Morris Academy that has turned many an evolved youth into celebrity superheroes, and the Gatlon School for the Gifted, which has a slightly less impressive reputation. Students of Gatlon tend to be relegated to minions, placeholders, or—at best—sidekicks.

Clara has no interest in being a hero, but she does need answers. Her invisible, mischievous pet Thunderbird, Tondra, is dying, and she refuses to let him go without a fight. Unfortunately, there seems to be a lot more happening in Gatlon than just a sickly mythical bird. Crime is on the rise, the police have gone complacent, and a new team of vigilantes are causing more problems than they're fixing. When Clara and her peers find themselves swept up in the chaos and no longer able to tell the good guys from the bad, no one is sure which side of hero vs. villain they'll fall on.
Wicked Like A Wildfire by Lana Popovic.
All the women in Iris and Malina's family are born with a gleam—a unique way of manipulating beauty through magic. Seventeen-year-old Iris sees flowers as fractals and turns her kaleidoscope visions into glasswork, her twin sister Malina interprets moods as music, and their cold, distant mother Jasmina bakes scenery into decadent treats at her confectionery in Old Town Cattaro, Montenegro.

Jasmina forbids Iris and Malina to share their gleams with anyone, and above all, she forbids them to fall in love—being discovered could shatter the quiet lives they've built in their tucked-away, seaside town. But Iris and Malina are tired of abiding by their mother's rules and rebel in secret whenever they can.

Yet when a mysterious, white-haired woman attacks their mother and leaves her hovering between life and death, the sisters unearth an ancient curse that haunts their line—a wicked bargain that masquerades as a blessing, and binds the twins' fates—and hearts—to a force larger than life. To save each other, they must untangle a thousand years of lies and reveal their own hurtful secrets. But even the deepest sacrifice might not be enough.

Wicked Like a Wildfire is the first book in a sumptuous, bewitching duology about the power of love, death, magic, and the many faces of beauty.
Because You Love To Hate Me: Thirteen Tales Of Villainy edited by Ameriie.
This unique YA anthology presents classic and original fairy tales from the villain's point of view. The book's unconventional structure–thirteen of the most influential BookTubers on YouTube join forces (writing-prompt style) with thirteen acclaimed and bestselling authors–gives these mysterious, oft-misunderstood individuals characters a chance to tell their stories, their way.

Like Maleficent or Wicked, these are stories of vengeance, of defiance, of rage. They are stories of pain, of heartbreak, of sorrow. But don't expect a circle of hands. Leave it to the heroes to help the world; villains just want to rule the world. We love to hate them and they hate to be loved, if only because being hated frees them from having to be good.

Contributing authors include bestselling and buzzy names Renée Ahdieh, Soman Chainani, Susan Dennard, Sarah Enni, Marissa Meyer, Cindy Pon, Victoria Schwab, Samantha Shannon, Adam Silvera, Andrew Smith, April Genevieve Tucholke, and Nicola Yoon, with a foreword and a story from anthology editor Ameriie.
Royal Bastards by Andrew Shvarts.
Being a bastard blows. Tilla would know. Her father, Lord Kent of the Western Province, loved her as a child, but cast her aside as soon as he had trueborn children.

At sixteen, Tilla spends her days exploring long-forgotten tunnels beneath the castle with her stablehand half brother, Jax, and her nights drinking with the servants, passing out on Jax's floor while her castle bedroom collects dust. Tilla secretly longs to sit by her father's side, resplendent in a sparkling gown, enjoying feasts with the rest of the family. Instead, she sits with the other bastards, like Miles of House Hampstedt, an awkward scholar who's been in love with Tilla since they were children.

Then, at a feast honoring the visiting princess Lyriana, the royal shocks everyone by choosing to sit at the Bastards' Table. Before she knows it, Tilla is leading the sheltered princess on a late-night escapade. Along with Jax, Miles, and fellow bastard Zell, a Zitochi warrior from the north, they stumble upon a crime they were never meant to witness.

Rebellion is brewing in the west, and a brutal coup leaves Lyriana's uncle, the Royal Archmagus, dead—with Lyriana next on the list. The group flees for their lives, relentlessly pursued by murderous mercenaries; their own parents have put a price on their heads to prevent the king and his powerful Royal Mages from discovering their treachery.

The bastards band together, realizing they alone have the power to prevent a civil war that will tear their kingdom apart—if they can warn the king in time. And if they can survive the journey . . .
Magnus Chase and the Gods of Asgard: The Ship Of The Dead by Rick Riordan.
In the third book in Rick Riordan's epic Norse mythology series, Magnus and his friends take a boat trip to the farthest borders of Jotunheim and Niflheim in pursuit of Asgard's greatest threat. Life preservers are mandatory for this wet, wild, and wondrous adventure.
Lord Of Shadows by Cassandra Clare.
Sunny Los Angeles can be a dark place indeed in Cassandra Clare's Lord of Shadows, the sequel to the #1 New York Times and USA TODAY bestselling Lady Midnight.

Emma Carstairs has finally avenged her parents. She thought she'd be at peace. But she is anything but calm. Torn between her desire for her parabatai Julian and her desire to protect him from the brutal consequences of parabatai relationships, she has begun dating his brother, Mark. But Mark has spent the past five years trapped in Faerie; can he ever truly be a Shadowhunter again?

And the faerie courts are not silent. The Unseelie King is tired of the Cold Peace, and will no longer concede to the Shadowhunters' demands. Caught between the demands of faerie and the laws of the Clave, Emma, Julian, and Mark must find a way to come together to defend everything they hold dear—before it's too late.
A Court Of Wings And Ruin by Sarah J. Maas.
Looming war threatens all Feyre holds dear in the third volume of the #1 New York Times bestselling A Court of Thorns and Rosesseries.

Feyre has returned to the Spring Court, determined to gather information on Tamlin's maneuverings and the invading king threatening to bring Prythian to its knees. But to do so she must play a deadly game of deceit-and one slip may spell doom not only for Feyre, but for her world as well.

As war bears down upon them all, Feyre must decide who to trust amongst the dazzling and lethal High Lords-and hunt for allies in unexpected places.

In this thrilling third book in the #1 New York Times bestselling series from Sarah J. Maas, the earth will be painted red as mighty armies grapple for power over the one thing that could destroy them all.
Untitled (The Shaw Confessions #1) by Michelle Hodkin.
What happens after happily ever after? By the end of the Mara Dyer Trilogy, Noah Shaw and Mara Dyer discovered their world-changing abilities along with their love for each other. In the first book of The Shaw Confessions, Noah's father is murdered, and Noah inherits unimaginable riches, terrible knowledge, and the chance to find other people like himself. But as Noah and Mara begin their global search, they'll discover that they have very different goals: Noah wants peace. Mara wants power. When the girl of your dreams turns the world into a nightmare, what do you choose? The girl or the world?
Beautiful Broken Girls by Kim Savage.
Mira and Francesca Cillo—beautiful, overprotected, odd—seemed untouchable. But Ben touched seven parts of Mira: her palm, hair, chest, cheek, lips, throat, and heart. After the sisters drown themselves in the quarry lake, a post-mortem letter from Mira sends Ben on a quest to find notes in the seven places where they touched. Note by note, Ben discovers the mystical secret at the heart of Mira and Francesca's world, and that some things are better left untouched.
The Wish Granter by C.J. Redwine.
An epic, romantic, and action-packed fantasy inspired by the tale of Rumpelstiltskin, about a bastard princess who must take on an evil fae to save her brother's soul, from C. J. Redwine, the New York Times bestselling author of The Shadow Queen. Perfect for fans of Graceling and the Lunar Chronicles.

The world has turned upside down for Thad and Ari Glavan, the bastard twins of Súndraille's king. Their mother was murdered. The royal family died mysteriously. And now Thad sits on the throne of a kingdom whose streets are suddenly overrun with violence he can't stop.

Growing up ignored by the nobility, Ari never wanted to be a proper princess. And when Thad suddenly starts training Ari to take his place, she realizes that her brother's ascension to the throne wasn't fate. It was the work of a Wish Granter named Alistair Teague who tricked Thad into wishing away both the safety of his people and his soul in exchange for the crown.

So Ari recruits the help of Thad's enigmatic new weapons master, Sebastian Vaughn, to teach her how to fight Teague. With secret ties to Teague's criminal empire, Sebastian might just hold the key to discovering Alistair's weaknesses, saving Ari's brother—and herself.

But Teague is ruthless and more than ready to destroy anyone who dares stand in his way—and now he has his sights set on the princess. And if Ari can't outwit him, she'll lose Sebastian, her brother…and her soul.
King's Cage by Victoria Aveyard.
In this breathless third installment to Victoria Aveyard's bestselling Red Queen series, allegiances are tested on every side. And when the Lightning Girl's spark is gone, who will light the way for the rebellion?

Mare Barrow is a prisoner, powerless without her lightning, tormented by her lethal mistakes. She lives at the mercy of a boy she once loved, a boy made of lies and betrayal. Now a king, Maven Calore continues weaving his dead mother's web in an attempt to maintain control over his country—and his prisoner.

As Mare bears the weight of Silent Stone in the palace, her once-ragtag band of newbloods and Reds continue organizing, training, and expanding. They prepare for war, no longer able to linger in the shadows. And Cal, the exiled prince with his own claim on Mare's heart, will stop at nothing to bring her back.

When blood turns on blood, and ability on ability, there may be no one left to put out the fire—leaving Norta as Mare knows it to burn all the way down.
Carve The Mark by Veronica Roth.
Fans of Star Wars and Divergent will revel in internationally bestselling author Veronica Roth's stunning new science-fiction fantasy series.

On a planet where violence and vengeance rule, in a galaxy where some are favored by fate, everyone develops a currentgift, a unique power meant to shape the future. While most benefit from their currentgifts, Akos and Cyra do not—their gifts make them vulnerable to others' control. Can they reclaim their gifts, their fates, and their lives, and reset the balance of power in this world?

Cyra is the sister of the brutal tyrant who rules the Shotet people. Cyra's currentgift gives her pain and power—something her brother exploits, using her to torture his enemies. But Cyra is much more than just a blade in her brother's hand: she is resilient, quick on her feet, and smarter than he knows.

Akos is from the peace-loving nation of Thuvhe, and his loyalty to his family is limitless. Though protected by his unusual currentgift, once Akos and his brother are captured by enemy Shotet soldiers, Akos is desperate to get his brother out alive—no matter what the cost. When Akos is thrust into Cyra's world, the enmity between their countries and families seems insurmountable. They must decide to help each other to survive—or to destroy one another.
Roseblood by A.G. Howard.
In this modern day spin on Leroux's gothic tale of unrequited love turned to madness, seventeen-year-old Rune Germain has a mysterious affliction linked to her operatic talent, and a horrifying mistake she's trying to hide. Hoping creative direction will help her, Rune's mother sends her to a French arts conservatory for her senior year, located in an opera house rumored to have ties to The Phantom of the Opera.

At RoseBlood, Rune secretly befriends the masked Thorn—an elusive violinist who not only guides her musical transformation through dreams that seem more real than reality itself, but somehow knows who she is behind her own masks. As the two discover an otherworldly connection and a soul-deep romance blossoms, Thorn's dark agenda comes to light and he's forced to make a deadly choice: lead Rune to her destruction, or face the wrath of the phantom who has haunted the opera house for a century, and is the only father he's ever known.
Lost Girls by Merrie Destefano.
Yesterday, Rachel went to sleep listening to Taylor Swift, curled up in her grammy's quilt, worrying about geometry. Today, she woke up in a ditch, bloodied, bruised, and missing a year of her life.

She doesn't recognize the person she's become: she's popular. She wears nothing but black.

Black to cover the blood.

And she can fight.

Tell no one.

She's not the only girl to go missing within the last year…but she's the only girl to come back. She desperately wants to unravel what happened to her, to try and recover the rest of the Lost Girls.

But the more she discovers, the more her memories return. And as much as her new life scares her, it calls to her. Seductively. The good girl gone bad, sex, drugs, and raves, and something darker…something she still craves—the rush of the fight, the thrill of the win—something she can't resist, that might still get her killed…

The only rule is: There are no rules.
The Hundred Lies Of Lizzie Lovett by Chelsea Sedoti.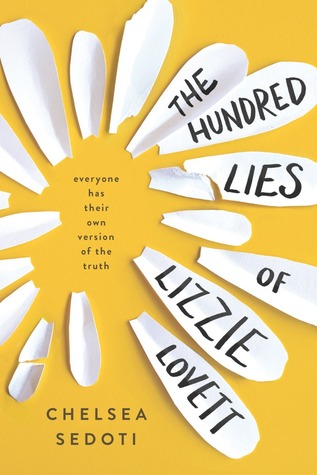 A teenage misfit named Hawthorn Creely inserts herself in the investigation of missing person Lizzie Lovett, who disappeared mysteriously while camping with her boyfriend. Hawthorn doesn't mean to interfere, but she has a pretty crazy theory about what happened to Lizzie. In order to prove it, she decides to immerse herself in Lizzie's life. That includes taking her job… and her boyfriend. It's a huge risk — but it's just what Hawthorn needs to find her own place in the world.
Love And First Sight by Josh Sundquist.
In his debut novel, YouTube personality and author of We Should Hang Out Sometime Josh Sundquist explores the nature of love, trust, and romantic attraction.

On his first day at a new school, blind sixteen-year-old Will Porter accidentally groped a girl on the stairs, sat on another student in the cafeteria, and s
omehow drove a classmate to tears. High school can only go up from here, right?

As Will starts to find his footing, he develops a crush on a charming, quiet girl named Cecily. Then an unprecedented opportunity arises: an experimental surgery that could give Will eyesight for the first time in his life. But learning to see is more difficult than Will ever imagined, and he soon discovers that the sighted world has been keeping secrets. It turns out Cecily doesn't meet traditional definitions of beauty–in fact, everything he'd heard about her appearance was a lie engineered by their so-called friends to get the two of them together. Does it matter what Cecily looks like? No, not really. But then why does Will feel so betrayed?

Told with humor and breathtaking poignancy, Love and First Sight is a story about how we related to each other and the world around us.
Long May She Reign by Rhiannon Thomas.
The Girl of Fire and Thorns meets The Queen of the Tearling in this thrilling fantasy standalone about one girl's unexpected rise to power.

Freya was never meant be queen. Twenty third in line to the throne, she never dreamed of a life in the palace, and would much rather research in her laboratory than participate in the intrigues of court. However, when an extravagant banquet turns deadly and the king and those closest to him are poisoned, Freya suddenly finds herself on the throne.

Freya may have escaped the massacre, but she is far from safe. The nobles don't respect her, her councillors want to control her, and with the mystery of who killed the king still unsolved, Freya knows that a single mistake could cost her the kingdom – and her life.

Freya is determined to survive, and that means uncovering the murderers herself. Until then, she can't trust anyone. Not her advisors. Not the king's dashing and enigmatic illegitimate son. Not even her own father, who always wanted the best for her, but also wanted more power for himself.

As Freya's enemies close in and her loyalties are tested, she must decide if she is ready to rule and, if so, how far she is willing to go to keep the crown.
Those are my top seventeen, what books are you excited for this year?