Oh wow, this is a long one. There are 15, yes, 15 new releases coming out today. Here they are…
Off The Ice by Julie Cross.
The NY Times and USA TODAY bestselling author of Whatever Life Throws at You kicks off a brand-new series perfect for fans of Miranda Kennealy and Abbi Glines.
Next season was supposed to be his year. Junior Tate Tanley had big plans to ride the varsity bench most of the season, but when the Otters star goalie storms out of the arena during the first home game of the season, Tate is in the spotlight and under the gun.

Enter Claire O'Connor, the girl Tate's admired for years, his sister's best friend. Claire's back from a year away at school to take care of her father and help keep the family business—a hockey bar beside the ice rink—afloat. One semester off, that's what Claire promised herself.

And then straight back to school, out of Juniper Falls. And she has dozens of reasons for wanting to get the hell out. Again.

Last year, the night before Claire left, she came to Tate's rescue and what could have been a secret that distanced them ended up drawing them closer the moment she returned to town. For Claire and Tate, leaning on each other feels as natural as breathing but with Claire trying her best to leave again and Tate more rooted to his town than ever, it seems like the worst time to fall in love. Assuming either of them can stop it from happening.
Last Stand by Rachel E. Carter.
He's the Black Mage and she's the traitor to the Crown.

Ryiah's world was shattered the night she discovered King Blayne's nefarious plans. Now, she has to betray the one she loves most in order to save the realm from war. Torn between love and duty, Ry finds herself on a perilous mission to help the rebels and convince the kingdom of Pythus not to honor its pact with the corrupt king of Jerar—all the while deceiving the most powerful mage in the realm, the very man sworn to protect the Crown and hunt the rebels at all costs: her husband.

She's one step ahead, but sooner or later the curtain will fall.

Sooner or later, she'll have to fight.

Witness the epic conclusion of The Black Mage series, and see just how far one girl will go to save her kingdom and the boy she loves—even when that boy has become the enemy.
King's Cage by Victoria Aveyard.
In this breathless third installment to Victoria Aveyard's bestselling Red Queen series, allegiances are tested on every side. And when the Lightning Girl's spark is gone, who will light the way for the rebellion?

Mare Barrow is a prisoner, powerless without her lightning, tormented by her lethal mistakes. She lives at the mercy of a boy she once loved, a boy made of lies and betrayal. Now a king, Maven Calore continues weaving his dead mother's web in an attempt to maintain control over his country—and his prisoner.

As Mare bears the weight of Silent Stone in the palace, her once-ragtag band of newbloods and Reds continue organizing, training, and expanding. They prepare for war, no longer able to linger in the shadows. And Cal, the exiled prince with his own claim on Mare's heart, will stop at nothing to bring her back.

When blood turns on blood, and ability on ability, there may be no one left to put out the fire—leaving Norta as Mare knows it to burn all the way down.
Wintersong by S. Jae-Jones.
Beware the goblin men and the wares they sell.

All her life, nineteen-year-old Liesl has heard tales of the beautiful, mysterious Goblin King. He is the Lord of Mischief, the Ruler Underground, and the muse around
which her music is composed. Yet, as Liesl helps shoulder the burden of running her family's inn, her dreams of composition and childish fancies about the Goblin King must be set aside in favor of more practical concerns.

But when her sister Käthe is taken by the goblins, Liesl journeys to their realm to rescue her sister and return her to the world above. The Goblin King agrees to let Käthe go—for a price. The life of a maiden must be given to the land, in accordance with the old laws. A life for a life, he says. Without sacrifice, nothing good can grow. Without death, there can be no rebirth. In exchange for her sister's freedom, Liesl offers her hand in marriage to the Goblin King. He accepts.

Down in the Underground, Liesl discovers that the Goblin King still inspires her—musically, physically, emotionally. Yet even as her talent blossoms, Liesl's life is slowly fading away, the price she paid for becoming the Goblin King's bride. As the two of them grow closer, they must learn just what it is they are each willing to sacrifice: her life, her music, or the end of the world.
Empress Of A Thousand Skies by Rhode Belleza.
Empress
Rhee, also known as Crown Princess Rhiannon Ta'an, is the sole surviving heir to a powerful dynasty. She'll stop at nothing to avenge her family and claim her throne.

Fugitive
Aly has risen above his war refugee origins to find fame as the dashing star of a DroneVision show. But when he's falsely accused of killing Rhee, he's forced to prove his innocence to save his reputation – and his life.

Madman
With planets on the brink of war, Rhee and Aly are thrown together to confront a ruthless evil that threatens the fate of the entire galaxy.

A saga of vengeance, warfare, and the true meaning of legacy.
Rise Of Fire by Sophie Jordan.
The richly suspenseful sequel to Sophie Jordan's romantic fantasy Reign of Shadows.

Luna and Fowler have escaped the kingdom of Relhok, but they haven't escaped the darkness. When a battle against the dark dwellers mortally injures Fowler, Luna is faced with a choice: put their fate in the hands of mysterious strangers or risk losing Fowler forever.

Desperate to keep the one bright part of her life alive, Luna accepts the help of soldiers from a nearby kingdom. Lagonia's castle offers reprieve from the dangerous outside world—until the king discovers both Fowler's and Luna's true ties to Relhok and their influence over the throne.

Now pawns in each kingdom's political game, Luna and Fowler are more determined than ever to escape and build the life they've been dreaming of. But their own pasts have a tight hold on their hearts and their destinies. Luna must embrace the darkness and fire within her before she loses not only Fowler, but the power she was destined to inherit.
Returned by Kimberely Griffiths Little.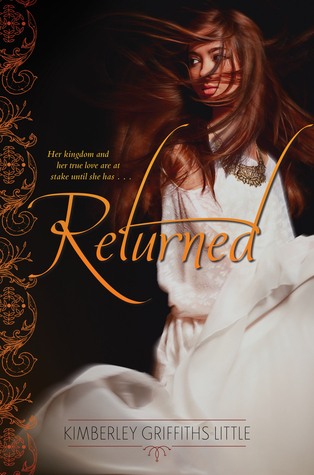 After tragedy strikes on the day they were to wed, Jayden must support Kadesh as he ascends the throne and becomes king of Sariba. But with the dark priestess Aliyah conspiring to control the crown, and the arrival of Horeb, Jayden's former betrothed,
Kadesh's kingdom, as well as his status as king, is at stake.

Jayden knows that the time to be merciful has come and gone, and that some enemies can only be halted by death. Now she and Kadesh must prepare to fight not only for their love, but also for their kingdom.
The Burning World by Isaac Marion.
Being alive is hard. Being human is harder. But since his recent recovery from death, R is making progress. He's learning how to read, how to speak, maybe even how to love, and the city's undead population is showing signs of life. R can almost imagine a future with Julie, this girl who restarted his heart—building a new world from the ashes of the old one.

And then helicopters appear on the horizon. Someone is coming to restore order. To silence all this noise. To return things to the way they were, the good old days of stability and control and the strong eating the weak. The plague is ancient and ambitious, and the Dead were never its only weapon.

How do you fight an enemy that's in everyone? Can the world ever really change? With their home overrun by madmen, R, Julie, and their ragged group of refugees plunge into the otherworldly wastelands of America in search of answers. But there are some answers R doesn't want to find. A past life, an old shadow, crawling up from the basement.
To Catch A Killer by Cheryl Scarborough.
Erin Blake has one of those names. A name that, like Natalee Holloway or Elizabeth Smart, is inextricably linked to a grisly crime. As a toddler, Erin survived for three days alongside the corpse of her murdered mother, and the case—which remains unsolved—fascinated a nation. Her father's identity unknown, Erin was taken in by her mother's best friend and has become a relatively normal teen in spite of the looming questions about her past.

Fourteen years later, Erin is once again at the center of a brutal homicide when she finds the body of her biology teacher. When questioned by the police, Erin tells almost the whole truth, but never voices her suspicions that her mother's killer has struck again in order to protect the casework she's secretly doing on her own.

Inspired by her uncle, an FBI agent, Erin has ramped up her forensic hobby into a full-blown cold-case investigation. This new murder makes her certain she's close to the truth, but when all the evidence starts to point the authorities straight to Erin, she turns to her longtime crush (and fellow suspect) Journey Michaels to help her crack the case before it's too late.
Disruptor by Arwen Elys Dayton.
For readers of Sarah J. Maas and of Marie Lu's Legend trilogy comes Disruptor, the sequel to Traveler, the thrilling conclusion to the Seeker series.

Quin has spent her life as her father's pawn. She was trained to kill and manipulated to guarantee her family's power. And now that she's broken free of that life, she's found herself trapped again, hostage to a plot that has been centuries in the making.

It's taken generations for the pieces to come together, and finally all is in place. Her best friend Shinobu's mind has been corrupted, the Young Dread has aligned with her enemy John, and the bloodthirsty Watchers are being awakened and gathered. Now there is nothing that can stop the force of time.

But Quin will no longer be a pawn. Quin is a Seeker. She stands for light in a shadowy world. She will face the vengeance of the past and its enemies and save herself and the ones she loves, or she will die trying.
Denton Little's Still Not Dead by Lance Rubin.
You only live once—unless you're Denton Little!

The good news: Denton Little has lived through his deathdate. Yay! The bad news: He's being chased by the DIA (Death Investigation Agency), he can never see his family again, and he may now die any time. Huh. Cheating death isn't quite as awesome as Denton would have thought…

Lance Rubin's debut novel, Denton Little's Deathdate, showed readers just how funny and poignant imminent death could be. Now in this sequel, he takes on the big questions about life. How do we cope, knowing we could die at any time? Would you save someone from dying even if they were a horrible person? Is it wrong to kiss the girl your best friend is crushing on if she's really into you instead? What if she's wearing bacon lip gloss?
At The Edge Of The Universe by Shaun David Hutchinson.
Tommy and Ozzie have been best friends since second grade, and boyfriends since eighth. They spent countless days dreaming of escaping their small town—and then Tommy vanished.

More accurately, he ceased to exist, erased from the minds and memories of everyone who knew him. Everyone except Ozzie.

Ozzie doesn't know how to navigate life without Tommy, and soon suspects that something else is going on: that the universe is shrinking.

When Ozzie is paired up with new student Calvin on a physics project, he begins to wonder if Calvin could somehow be involved. But the more time they spend together, the harder it is for him to deny the feelings developing between them, even if he still loves Tommy.

But Ozzie knows there isn't much time left to find Tommy–that once the door closes, it can't be opened again. And he's determined to keep it open as long as possible.
A Tragic Kind Of Wonderful by Eric Lindstrom.
In the vein of It's Kind of a Funny Story and All the Bright Places, comes a captivating, immersive exploration of life with mental illness.

For sixteen-year-old Mel Hannigan, bipolar disorder makes life unpredictable. Her latest struggle is balancing her growing feelings in a new relationship with her instinct to keep everyone at arm's length. And when a former friend confronts Mel with the truth about the way their relationship ended, deeply buried secrets threaten to come out and upend her shaky equilibrium.

As the walls of Mel's compartmentalized world crumble, she fears the worst–that her friends will abandon her if they learn the truth about what she's been hiding. Can Mel bring herself to risk everything to find out?

In A Tragic Kind of Wonderful, Eric Lindstrom, author of the critically acclaimed Not If I See You First, examines the fear that keeps us from exposing our true selves, and the courage it takes to be loved for who we really are.
Lessons In Falling by Diana Gallagher.
When Savannah Gregory blows out her knee –and her shot at a gymnastics scholarship – she decides she's done with the sport forever. Without gymnastics, she has more time for her best friend, Cassie. She's content to let her fun, impulsive best
friend plan a memorable senior year.

That is, until Cassie tries to kill herself.

Savannah wants to understand what happened, but Cassie refuses to talk about it and for the first time, Savannah has to find her own way. The only person she can turn to is Marcos, the boy who saved Cassie's life. Being with him makes her see who she could be and what she really wants: gymnastics.

But Cassie doesn't approve of Marcos or of Savannah going back to gymnastics, and the tighter she tries to hold onto Savannah, the farther it pulls them apart. Without Cassie to call the shots, Savannah discovers how capable she is on her own—and that maybe her best friend's been holding her back all along.
Starfall by Melissa Landers.
When Princess Cassia Rose fled her home world of Eturia to escape an arranged marriage, she had no idea her sudden departure would spark a war. Now after two years hiding as a ship hand, she is finally returning to her beloved home, but not in the way she imagined. Shackled by bounty hunters, she is violently dragged back to account for her crimes. Her only solace is that the Banshee crew managed to evade capture, including Kane Arric, her best friend…with occasional benefits.

Meanwhile, Kane and the rest of the crew of the Banshee plan a desperate rescue mission. But when they arrive on Eturia, Cassia isn't exactly in need of heroics—she's claimed her birthright as Eturia's queen, but has inherited a war-torn planet simmering with rebellion. Cassia must make alliances, and Kane, the bastard son of a merchant, isn't a choice that will earn her any friends. Kane knows he will never find someone to replace Cassia—and is certain she returns his feelings—but how can he throw away his own promising future waiting on a queen?

When the outer realm is threatened by the dangerous Zhang mafia, Cassia, Kane and the rest of the Banshee crew uncover a horrifying conspiracy that endangers the entire universe. In the face of unspeakable evil, Cassia must confront her own family's complicated legacy on Eturia and decide once and for all who her real family is.
Which one will you be picking up?