Okay, this one is a doozie, we have 12 new books out today! Hooly cow, that is a lot. Here they are…
Caraval by Stephanie Garber.
Whatever you've heard about Caraval, it doesn't compare to the reality. It's more than just a game or a performance. It's the closest you'll ever find to magic in this world . . .

Welcome, welcome to Caraval—Stephanie Garber's sweeping tale of two sisters who escape their ruthless father when they enter the dangerous intrigue of a legendary game.

Scarlett has never left the tiny island where she and her beloved sister, Tella, live with their powerful, and cruel, father. Now Scarlett's father has arranged a marriage for her, and Scarlett thinks her dreams of seeing Caraval, the far-away, once-a-year performance where the audience participates in the show, are over.

But this year, Scarlett's long-dreamt of invitation finally arrives. With the help of a mysterious sailor, Tella whisks Scarlett away to the show. Only, as soon as they arrive, Tella is kidnapped by Caraval's mastermind organizer, Legend. It turns out that this season's Caraval revolves around Tella, and whoever finds her first is the winner.

Scarlett has been told that everything that happens during Caraval is only an elaborate performance. But she nevertheless becomes enmeshed in a game of love, heartbreak, and magic with the other players in the game. And whether Caraval is real or not, she must find Tella before the five nights of the game are over, a dangerous domino effect of consequences is set off, and her sister disappears forever.
Wires And Nerve by Marissa Meyer.
In her first graphic novel, #1 New York Times and USA Today bestseller Marissa Meyer follows Iko, the beloved android from the Lunar Chronicles, on a dangerous and romantic new adventure — with a little help from Cinder and the Lunar team.

In her first graphic novel, bestselling author Marissa Meyer extends the world of the Lunar Chronicles with a brand-new, action-packed story about Iko, the android with a heart of (mechanized) gold. When rogue packs of wolf-hybrid soldiers threaten the tenuous peace alliance between Earth and Luna, Iko takes it upon herself to hunt down the soldiers' leader. She is soon working with a handsome royal guard who forces her to question everything she knows about love, loyalty, and her own humanity. With appearances by Cinder and the rest of the Rampion crew, this is a must-have for fans of the bestselling series.
Wait For Me by Caroline Leech.
The perfect blend of sweet romance and historical flavor, Wait for Me, from debut author Caroline Leech, brings a fresh new voice to a much-loved genre.

It's 1945, and Lorna Anderson's life on her father's farm in Scotland consists of
endless chores and rationing, knitting Red Cross scarves, and praying for an Allied victory. So when Paul Vogel, a German prisoner of war, is assigned as the new farmhand, Lorna is appalled. How can she possibly work alongside the enemy when her own brothers are risking their lives for their country?

But as Lorna reluctantly spends time with Paul, she feels herself changing. The more she learns about him—from his time in the war to his life back home in Germany—the more she sees the boy behind the soldier. Soon Lorna is battling her own warring heart. Loving Paul could mean losing her family and the life she's always known. With tensions rising all around them, Lorna must decide how much she's willing to sacrifice before the end of the war determines their fate.
Long Way Home by Katie McGarry.
Seventeen-year-old Violet has always been expected to sit back and let the boys do all the saving.

It's the code her father, a member of the Reign of Terror motorcycle club, raised her to live by. Yet when her dad is killed carrying out Terror business, Violet knows it's up to her to do the saving. To protect herself, and her vulnerable younger brother, she needs to cut all ties with the club—including Chevy, the boy she's known and loved her whole life.

But when a rival club comes after Violet, exposing old secrets and making new threats, she's forced to question what she thought she knew about her father, the Reign of Terror, and what she thinks she wants. Which means re-evaluating everything: love, family, friends . . . and forgiveness.

Caught in the crosshairs between loyalty and freedom, Violet must decide whether old friends can be trusted—and if she's strong enough to be the one person to save them all.
Silver Stars by Michael Grant.
The summer of 1943, World War II. With heavy memories of combat, Frangie, Rainy, Rio, and the rest of the American army are moving on to their next target: the Italian island of Sicily.

The women won't conquer Italy alone. They are not heroes for fighting alongside their brothers—they are soldiers. But Frangie, Rainy, Rio, and the millions of brave females fighting for their country have become a symbol in the fight for equality. They will brave terrible conditions in an endless siege; they will fight to find themselves on the front lines of WWII; and they will come face-to-face with the brutality of war until they win or die.
Exo by Fonda Lee.
It's been a century of peace since Earth became a colony of an alien race with far reaches into the galaxy. Some die-hard extremists still oppose alien rule on Earth, but Donovan Reyes isn't one of them. His dad holds the prestigious position of Prime Liaison in the collaborationist government, and Donovan's high social standing along with his exocel (a remarkable alien technology fused to his body) guarantee him a bright future in the security forces. That is, until a routine patrol goes awry and Donovan's abducted by the human revolutionary group Sapience, determined to end alien control.

When Sapience realizes whose son Donovan is, they think they've found the ultimate bargaining chip . But the Prime Liaison doesn't negotiate with terrorists, not even for his own son. Left in the hands of terrorists who have more uses for him dead than alive, the fate of Earth rests on Donovan's survival. Because if Sapience kills him, it could spark another intergalactic war. And Earth didn't win the last one . . .
Blood Of Wonderland by Colleen Oakes.
Dinah has been exiled from Wonderland. The vicious father she always feared has framed her for the brutal murder of her brother and turned the kingdom against her.

Now hiding in the lush and mysterious Twisted Wood with only her war steed at her side, Dinah is faced with a choice: leave Wonderland forever or stay and fight her father for the throne.

When a chance encounter with one of her father's long-lost enemies brings Dinah more allies than she ever could have imagined, war starts to feel inevitable. But before Dinah can lead her people into combat, she must confront certain truths about her heart and her destiny—no matter how dark those truths may be.

Revolution is rising in Wonderland. Dinah's battle has begun.
The Edge of Everything by Jeff Giles.
It's been a shattering year for seventeen-year-old Zoe, who's still reeling from her father's shockingly sudden death in a caving accident and her neighbors' mysterious
disappearance from their own home. Then on a terrifying sub-zero, blizzardy night in Montana, she and her brother are brutally attacked in a cabin in the woods–only to be rescued by a mysterious bounty hunter they call X.

X is no ordinary bounty hunter. He is from a hell called the Lowlands, sent to claim the soul of Zoe's evil attacker and others like him. Forbidden to reveal himself to anyone other than his victims, X casts aside the Lowlands' rules for Zoe. As X and Zoe learn more about their different worlds, they begin to question the past, their fate, and their future. But escaping the Lowlands and the ties that bind X might mean the ultimate sacrifice for both of them.
Our Own Private Universe by Robin Talley.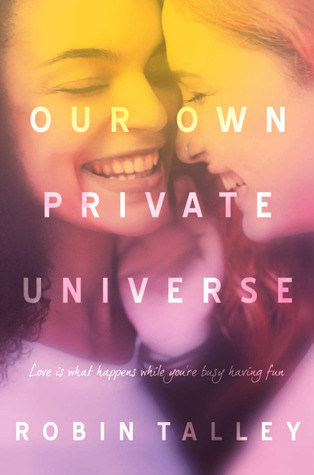 Fifteen-year-old Aki Hunter knows she's bisexual, but up until now she's only dated guys—and her best friend, Lori, is the only person she's out to. When she and Lori set off on a four-week youth-group mission trip in a small Mexican town, it never crosses Aki's mind that there might be anyone in the group she'd be interested in dating. But that all goes out the window when Aki meets Christa.
The Careful Undressing Of Love by Corey Ann Haydu.
Everyone who really knows Brooklyn knows Devonairre Street girls are different. They're the ones you shouldn't fall in love with. The ones with the curse. The ones who can get you killed.

Lorna Ryder is a Devonairre Street girl, and for years, paying lip service to the curse has been the small price of living in a neighborhood full of memories of her father, one of the thousands killed five years earlier in the 2001 Times Square Bombing. Then her best friend's boyfriend is killed, and suddenly a city paralyzed by dread of another terrorist attack is obsessed with Devonairre Street and the price of falling in love.

Set in an America where recent history has followed a different path.
By Your Side by Kasie West.
In this irresistible story, Kasie West explores the timeless question of what to do when you fall for the person you least expect. Witty and romantic, this paperback original from a fan favorite is perfect for fans of Stephanie Perkins and Morgan Matson.

When Autumn Collins finds herself accidentally locked in the library for an entire weekend, she doesn't think things could get any worse. But that's before she realizes that Dax Miller is locked in with her. Autumn doesn't know much about Dax except that he's trouble. Between the rumors about the fight he was in (and that brief stint in juvie that followed it) and his reputation as a loner, he's not exactly the ideal person to be stuck with. Still, she just keeps reminding herself that it is only a matter of time before Jeff, her almost-boyfriend, realizes he left her in the library and comes to rescue her.

Only he doesn't come. No one does.

Instead it becomes clear that Autumn is going to have to spend the next couple of days living off vending-machine food and making conversation with a boy who clearly wants nothing to do with her. Except there is more to Dax than meets the eye. As he and Autumn first grudgingly, and then not so grudgingly, open up to each other, Autumn is struck by their surprising connection. But can their feelings for each other survive once the weekend is over and Autumn's old life, and old love interest, threaten to pull her from Dax's side?
Dawn Study by Maria V. Snyder.
New York Times bestselling author Maria V. Snyder brings her Poison Study series to its exhilarating conclusion.

Despite the odds, Yelena and Valek have forged an irrevocable bond and a family that transcends borders. Now, when their two homelands stand on the brink of war, they must fight with magic and cunning to thwart an Ixian plot to invade Sitia.

Yelena seeks to break the hold of the insidious Theobroma that destroys a person's resistance to magical persuasion. But the Cartel is determined to keep influential citizens and Sitian diplomats in thrall and Yelena at bay. With every bounty hunter after her, Yelena is forced to make a dangerous deal.

With might and magic, Valek peels back the layers of betrayal surrounding the Commander. At its rotten core lies a powerful magician and his latest discovery. The fate of all rests upon two unlikely weapons. One may turn the tide. The other could spell the end of everything."
Which one will you be reading first?