Hey Guys! It's Liv. June is officially over, and July has begun. Wow. I cannot even believe it. I read two-ish book in June, Yeah, I know. But, that's more than usual for me. So, let's take a look at all the upcoming new releases for July!
Shimmer by Paula Weston
Gaby thought her life couldn't get more complicated.

She's almost used to the idea that she's not the nineteen-year-old backpacker she thought she was. She can just about cope with being one of the Rephaim – a 140-year-old half-angel – whose memories have been stolen. She's even coming to grips with the fact that Jude, the brother she's mourned for a year, didn't die at all.

But now Rafa—sexy, infuriating Rafa—is being held, and hurt, by Gatekeeper demons. And Gaby has to get the bitterly divided Rephaim to work together, or Rafa has no chance at all.

It's a race against time – and history. And it may already be too late.
Naked by Stacey Trombley
The best place to hide is in a lie…

I could never fit in to the life my parents demanded. By the time I was thirteen, it was too much. I ran away to New York City…and found a nightmare that lasted three years. A nightmare that began and ended with a pimp named Luis. Now I am Dirty Anna. Broken, like everything inside me has gone bad.

Except that for the first time, I have a chance to start over. Not just with my parents but at school. Still, the rumors follow me everywhere. Down the hall. In classes. And the only hope I can see is in the wide, brightly lit smile of Jackson, the boy next door. So I lie to him. I lie to protect him from my past. I lie so that I don't have to be The Girl Who Went Bad.

The only problem is that someone in my school knows about New York.

Someone knows who I really am.

And it's just a matter of time before the real Anna is exposed…
The Heart If Betrayal by Mary E. Pearson
Intrigue abounds in this hotly anticipated sequel to The Kiss of Deception!

Held captive in the barbarian kingdom of Venda, Lia and Rafe have little chance of escape. Desperate to save her life, Lia's erstwhile assassin, Kaden, has told the Vendan Komizar that she has the gift, and the Komizar's interest in Lia is greater than anyone could have foreseen.

Meanwhile, nothing is straightforward: there's Rafe, who lied to Lia, but has sacrificed his freedom to protect her; Kaden, who meant to assassinate her but has now saved her life; and the Vendans, whom Lia always believed to be barbarians. Now that she lives amongst them, however, she realizes that may be far from the truth. Wrestling with her upbringing, her gift, and her sense of self, Lia must make powerful choices that will affect her country… and her own destiny.
Ink And Bone by Rachel Caine
In an exhilarating new series, New York Times bestselling author Rachel Caine rewrites history, creating a dangerous world where the Great Library of Alexandria has survived the test of time.…

Ruthless and supremely powerful, the Great Library is now a presence in every major city, governing the flow of knowledge to the masses. Alchemy allows the Library to deliver the content of the greatest works of history instantly—but the personal ownership of books is expressly forbidden.

Jess Brightwell believes in the value of the Library, but the majority of his knowledge comes from illegal books obtained by his family, who are involved in the thriving black market. Jess has been sent to be his family's spy, but his loyalties are tested in the final months of his training to enter the Library's service.

When he inadvertently commits heresy by creating a device that could change the world, Jess discovers that those who control the Great Library believe that knowledge is more valuable than any human life—and soon both heretics and books will burn.…
Paperweight by Meg Haston
Seventeen-year-old Stevie is trapped. In her life. In her body. And now in an eating-disorder treatment center on the dusty outskirts of the New Mexico desert.

Life in the center is regimented and intrusive, a nightmare come true. Nurses and therapists watch Stevie at mealtime, accompany her to the bathroom, and challenge her to eat the foods she's worked so hard to avoid.

Her dad has signed her up for sixty days of treatment. But what no one knows is that Stevie doesn't plan to stay that long. There are only twenty-seven days until the anniversary of her brother Josh's death—the death she caused. And if Stevie gets her way, there are only twenty-seven days until she too will end her life.

In this emotionally haunting and beautifully written young adult debut, Meg Haston delves into the devastating impact of trauma and loss, while posing the question: Why are some consumed by their illness while others embark on a path toward recovery?
Jesse's Girl by Miranda Kenneally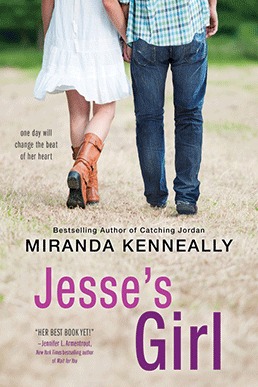 Practice Makes Perfect.

Everyone at Hundred Oaks High knows that career mentoring day is a joke. So when Maya Henry said she wanted to be a rock star, she never imagined she'd get to shadow *the* Jesse Scott, Nashville's teen idol.

But spending the day with Jesse is far from a dream come true. He's as gorgeous as his music, but seeing all that he's accomplished is just a reminder of everything Maya's lost: her trust, her boyfriend, their band, and any chance to play the music she craves. Not to mention that Jesse's pushy and opinionated. He made it on his own, and he thinks Maya's playing back up to other people's dreams. Does she have what it takes to follow her heart—and go solo?
A Million Miles Away by Lara Avery
Perfect for fans of Nicholas Sparks, this breathtaking story of love and loss is guaranteed to break your heart and sweep you off your feet.

When high school senior Kelsey's identical twin sister, Michelle, dies in a car crash, Kelsey is left without her other half. The only person who doesn't know about the tragedy is Michelle's boyfriend, Peter, recently deployed to Afghanistan. But when Kelsey finally connects with Peter online, she can't bear to tell him the truth. Active duty has taken its toll, and Peter, thinking that Kelsey is Michelle, says that seeing her is the one thing keeping him alive. Caught up in the moment, Kelsey has no choice: She lets Peter believe that she is her sister.

As Kelsey keeps up the act, she crosses the line from pretend to real. Soon, Kelsey can't deny that she's falling, hard, for the one boy she shouldn't want.
Suicide Notes From Beautiful Girls by Lynn Weingarten
Pitched as Gone Girl meets Thirteen Reasons Why

June barely has time to mourn the death of her best friend Delia, before Delia's ex-boyfriend convinces her Delia was murdered, and June is swept into a tangle of lies, deceit, and conspiracy.
The Fixer by Jennifer Lynn Barne
When sixteen-year-old Tess Kendrick is sent to live with her older sister, Ivy, she has no idea that the infamous Ivy Kendrick is Washington D.C.'s #1 "fixer," known for making politicians' scandals go away for a price. No sooner does Tess enroll at Hardwicke Academy than she unwittingly follows in her sister's footsteps and becomes D.C.'s premier high school fixer, solving problems for elite teens.

Secrets pile up as each sister lives a double life. . . . until their worlds come crashing together and Tess finds herself in the middle of a conspiracy with one of her classmates and a client of Ivy's. Suddenly, there is much more on the line than good grades, money, or politics, and the price for this fix might be more than Tess is willing to pay.

Perfect for fans of Pretty Little Liars and Heist Society, readers will be clamoring for more in this exciting new series.
Silver In The Blood by Jessica Day George
A New York Times bestselling author brings dark secrets to life in a lush new YA perfect for fans of Libba Bray or Cassandra Clare.

Society girls from New York City circa 1890, Dacia and Lou never desired to know more about their lineage, instead preferring to gossip about the mysterious Romanian family that they barely knew. But upon turning seventeen, the girls must return to their homeland to meet their relatives, find proper husbands, and—most terrifyingly—learn the deep family secrets of The Claw, The Wing, and The Smoke. The Florescus, after all, are shape-shifters, and it is time for Dacia and Lou to fulfill the prophecy that demands their acceptance of this fate . . . or fight against this cruel inheritance with all their might.

With a gorgeous Romanian setting, stunning Parisian gowns, and dark brooding young men, readers will be swept up by this epic adventure of two girls in a battle for their lives.
You And Me And Me And Him By Kris Dinnison
"Do not ignore a call from me when you know I am feeling neurotic about a boy. That is Best Friend 101." —Nash
Maggie and Nash are outsiders. She's overweight. He's out of the closet. The best of friends, they have seen each other through thick and thin, but when Tom moves to town at the start of the school year, they have something unexpected in common: feelings for the same guy. This warm, witty novel—with a clear, true voice and a clever soundtrack of musical references—sings a song of love and forgiveness.
Renegade by Kris Wilkinson
Silver Blackthorn is a fugitive from the law.
Silver Blackthorn has committed treason.
She is dangerous. Do NOT approach her.
A large reward is on offer. Report any sightings to your nearest Kingsman.
Long live the King.

Silver Blackthorn is on the run. She fled Windsor Castle with eleven other teenagers, taking with her something far more valuable than even she realises: knowledge.

With the entire country searching for the missing Offerings, Silver must keep them all from the vicious clutches of King Victor and the Minister Prime. Until now, no one has escaped the king and lived to tell the tale.

Or have they?

With expectations weighing heavily on the girl with the silver streak in her hair, will she ever find her way home?
The Six by Mark Alpert
To save humanity, they must give up their own.

Adam's muscular dystrophy has stolen his mobility, his friends, and in a few short years, it will take his life. Virtual reality games are Adam's only escape from his wheelchair. In his alternate world, he can defeat anyone. Running, jumping, scoring touchdowns: Adam is always the hero.

Then an artificial intelligence program, Sigma, hacks into Adam's game. Created by Adam's computer-genius father, Sigma has gone rogue, threatening Adam's life-and world domination. Their one chance to stop Sigma is using technology Adam's dad developed to digitally preserve the mind of his dying son.

Along with a select group of other terminally ill teens, Adam becomes one of the Six who have forfeited their bodies to inhabit weaponized robots. But with time running short, the Six must learn to manipulate their new mechanical forms and work together to train for epic combat…before Sigma destroys humanity.
Hallowed by Tonya Hurley
Three lost girls, one mysterious boy. They battle for his heart while he struggles for their souls in this gripping conclusion to The Blessed trilogy, from the New York Times bestselling author of the ghostgirl series.

Lucy, Cecelia, and Agnes have sacrificed everything for their belief in a boy who stole their hearts. First in Precious Blood and then in Passionaries, the girls have struggled to reconcile with their destinies. Now, as the world turns against them, will they be able to hold steadfast? Will they survive the final test?
Our Song by A. Destiny and Elizabeth Lenhard
First crush, first love, first kiss—Nell finds summer romance and rediscovers her passion for music in this addition to the sweet and clean Flirt series.

Shipped off to camp for the summer, Nell isn't looking forward to campfires, (too many) sing-alongs, and a WiFi-free existence. And no matter how much she wants to keep a low profile, Nell knows it'll be impossible. Her family is folk music royalty, and she's the best fiddle player at the camp. With no other option, Nell jumps feet first into a world of music lessons, craft classes, and countless renditions of Kumbaya—exactly what she was hoping to escape.

But Jacob—a fellow musician at the camp—decides to remind Nell of her folk music–loving roots. He sees her talent and can't understand why she's pushing music and her family away. Jacob convinces Nell to go with him on a series of cliché camp adventures, in the hopes that she'll begin to see herself through his eyes.

As his plan starts to work, Nell slowly beings to fall back in love with music—and fall for Jacob—but is he falling for her, too?
The Escape by Hannah Jayne
When two boys walk into the woods, and one comes out covered in blood, what would you believe?
Fletcher and Adam venture into the woods for an afternoon hike, but when day turns into night and neither boy returns, their town is thrown into turmoil. Avery, the detective's daughter, is the one to find Fletcher—dishelved, disoriented, and covered in blood. He has no memory of what happened, but Avery can't shake the feeling that something's off. When Adam's body is finally found, Avery is determined to uncover the truth. But if she stands by her gut, and Fletcher, is she standing by a friend, or a murderer? The answer might cost her her life.
Map To The Stars by Jen Malone
Author Jen Malone draws on her real-life experiences as a movie studio publicist to bring you an insider peek at love, Hollywood-style.

The California dream was supposed to give seventeen-year-old Annie Shelton a fresh start far removed from her dad's unusual betrayal. But when things don't go according to plan in La La Land, Annie's mom snags a last-minute gig as makeup artist to a teen movie idol and finagles a spot for her daughter on his European promotional tour.

Down-to-earth Annie would rather fangirl architectural sights than an arrogant A-lister. That is, until behind-the-scenes Graham Cabot turns out to be more sweetly vulnerable than she could have imagined.

Too bad falling for a poster boy isn't all red carpets and star treatment, especially when you factor in obnoxious fans, an overprotective assistant, a stage mom/manager, and a beefy bodyguard.

But it isn't until the paparazzi make an appearance that things get really sticky…
Ruthless by Carolyn Lee Adams
A spine-tingling debut about the ultimate game of cat-and-mouse in reverse as a teen struggles to retain hope—and her sanity—while on the run from a cunning and determined killer.

Ruth Carver has always competed like her life depends on it. Ambitious. Tough. Maybe even mean. It's no wonder people call her Ruthless.

When she wakes up with a concussion in the bed of a moving pickup trick, she realizes she has been entered into a contest she can't afford to lose.

At a remote, rotting cabin deep in the Blue Ridge Mountains, Ruth's blindfold comes off and she comes face-to-face with her captor. A man who believes his mission is to punish bad girls like Ruth. A man who has done this six times before.

The other girls were never heard from again, but Ruth won't go down easy. She escapes into the wilderness, but her hunter is close at her heels. That's when the real battle begins. That's when Ruth must decides just how far she'll go in order to survive.

Back home, they called her Ruthless. They had no idea just how right they were.
Damage Done by Amanda Panitch
"Exceedingly clever and surprisingly unsettling, Damage Done is an unforgettable read." –Melissa Marr, New York Times bestselling author of Made for You

"In her incredible debut novel, Amanda Panitch leaves you on the edge of your seat. Prepare to be stunned. Prepare to be torn apart." –Roxane Gay, New York Times bestselling author of Bad Feminist

"A brilliant thriller. Gillian Flynn for the YA set." –Amy Christine Parker, author of Gated

22 minutes separate Julia Vann's before and after.

Before: Julia had a twin brother, a boyfriend, and a best friend.

After: She has a new identity, a new hometown, and memories of those twenty-two minutes that refuse to come into focus. At least, that's what she tells the police.

Now that she's Lucy Black, she's able to begin again. She's even getting used to the empty bedroom where her brother should be. And her fresh start has attracted the attention of one of the hottest guys in school, a boy who will do anything to protect her. But when someone much more dangerous also takes notice, Lucy's forced to confront the dark secrets she thought were safely left behind.

One thing is clear: The damage done can never be erased. It's only just beginning. . . .
Watch Your back by Tracy Bilen
When sixteen-year-old Kate hears the boom that ends her parents' life, she doesn't even realize it has anything to do with her. Until the police arrive at her front door.

Sent to live with her aunt at a ski school in Vermont, Kate tries to adapt to her new life. But then Kate's aunt is hit by a speeding car and a rogue FBI agent tries to force Kate into his car at gunpoint. She's saved by Ryan, the risk-taking skier she's only just met.

On the run, the two must unravel the truth about her parents' murder in order to stop a terrorist plot and save their own lives.
Pretending To Be Erica by Michelle Painchaud
We Were Liars meets Heist Society in a riveting debut!

Seventeen-year-old Violet's entire life has revolved around one thing: becoming Erica Silverman, an heiress kidnapped at age five and never seen again. Violet's father, the best con man in Las Vegas, has a plan, chilling in its very specific precision. Violet shares a blood type with Erica; soon, thanks to surgery and blackmail, she has the same face, body, and DNA. She knows every detail of the Silvermans' lives, as well as the PTSD she will have to fake around them. And then, when the time is right, she "reappears"—Erica Silverman, brought home by some kind of miracle. But she is also Violet, and she has a job: Stay long enough to steal the Silverman Painting, an Old Master legendary in the Vegas crime world. Walking a razor's edge, calculating every decision, not sure sometimes who she is or what she is doing it for, Violet is an unforgettable heroine, andPretending to be Erica is a killer debut.
Every Last Breath by Jennifer L. Armentrout
Some loves will last 'til your dying breath

Every choice has consequences—but seventeen-year-old Layla faces tougher choices than most. Light or darkness. Wickedly sexy demon prince Roth, or Zayne, the gorgeous, protective Warden she never thought could be hers. Hardest of all, Layla has to decide which side of herself to trust.

Layla has a new problem, too. A Lilin—the deadliest of demons—has been unleashed, wreaking havoc on those around her…including her best friend. To keep Sam from a fate much, much worse than death, Layla must strike a deal with the enemy while saving her city—and her race—from destruction.

Torn between two worlds and two different boys, Layla has no certainties, least of all survival, especially when an old bargain comes back to haunt them all. But sometimes, when secrets are everywhere and the truth seems unknowable, you have to listen to your heart, pick a side—and then fight like hell…
Lair Of Dreams by Libba Bray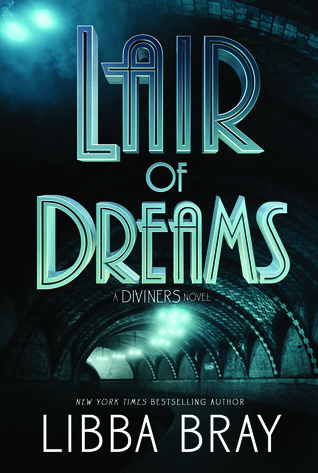 After a supernatural showdown with a serial killer, Evie O'Neill has outed herself as a Diviner. Now that the world knows of her ability to "read" objects, and therefore, read the past, she has become a media darling, earning the title, "America's Sweetheart Seer." But not everyone is so accepting of the Diviners' abilities…

Meanwhile, mysterious deaths have been turning up in the city, victims of an unknown sleeping sickness. Can the Diviners descend into the dreamworld and catch a killer?
Wow. Those books sound pretty good, am I right? I can't wait for these upcoming releases, they all sound so good! Well, I hope you enjoyed this, and maybe found some new books to add to your TBR! I'll see you back here later and I hope you have a great rest of your day!