Hey Guys! Since it's the first day of June, I thought that it would be nice to see what's being published this month! There are some pretty interesting books coming out.
Powerless by Tera Lynn Childs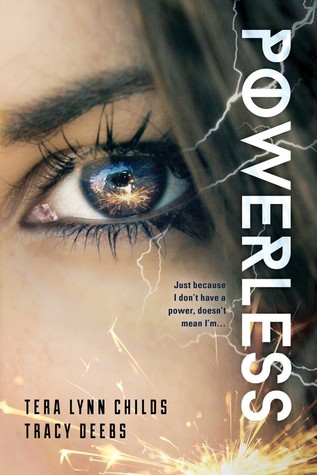 Kenna is tired of being "normal". The only thing special about her is that she isn't special at all. Which is frustrating in a world of absolutes. Villains, like the one who killed her father, are bad. Heroes, like her mother and best friend, are good. And Kenna, unlike everyone else around her, is completely ordinary— which she hates. She's secretly working on an experiment that will land her a place among the Heroes, but when a Villain saves her life during a break-in at her lab, Kenna discovers there's a whole lot of gray area when it comes to good and evil and who she can trust.. After all…not all strength comes from superpowers.
The Leveller by Julia Durango
Nixy Bauer is a self-made Leveller. Her job? Dragging kids out of virtual reality and back to their parents in the real world. It's normally easy cash, but Nixy's latest mission is fraught with real danger, intrigue, and romance. Nixy Bauer is used to her classmates being very, very unhappy to see her. After all, she's a bounty hunter in a virtual reality gaming world. Kids in the MEEP, as they call it, play entirely with their minds, while their bodies languish in a sleeplike state on the couch. Irritated parents, looking to wrench their kids back to reality, hire Nixy to jump into the game and retrieve them. But when the game's billionaire developer loses track of his own son in the MEEP, Nixy is in for the biggest challenge of her bounty-hunting career. Wyn Salvador isn't some lazy kid looking to escape his homework: Wyn does not want to be found. And he's left behind a suicide note. Nixy takes the job but quickly discovers that Wyn's not hiding—he's being held inside the game against his will. But who is holding him captive, and why? Nixy and Wyn attempt to fight their way out of a mind game unlike any they've encountered, and the battle brings them closer than either could have imagined. But when the whole world is virtual, how can Nixy possibly know if her feelings are real? Gamers and action fans of all types will dive straight into the MEEP, thanks to Julia Durango's cinematic storytelling. A touch of romance adds some heart to Nixy's vivid, multidimensional journey through Wyn's tricked-out virtual city, and constant twists keep readers flying through to the breathtaking end.
The Rules by Nancy Holder and Debbie Viguié
Narrated by alternating unreliable narrators, this dark thriller will have readers on the edge of their seats. No one is safe and everyone is a suspect. It's Saw meets I Know What You Did Last Summer. Junior Robin Brisset has no idea what she's in for when she accepts an invitation to one of Callabrese High's most exclusive parties. And when the trademark scavenger hunt begins, Robin must go against every rule she's lived by to survive.
The Devil You Know by Trish Doller
Eighteen-year-old Arcadia wants adventure. Living in a tiny Florida town

with her dad and four-year-old brother, Cadie spends most of her time working, going to school, and taking care of her family. So when she meets two handsome cousins at a campfire party, she finally has a chance for fun. They invite her and friend to join them on a road trip, and it's just the risk she's been craving-the opportunity to escape. But what starts out as a fun, sexy journey quickly becomes dangerous when she discovers that one of them is not at all who he claims to be. One of them has deadly intentions. A road trip fling turns terrifying in this contemporary story that will keep readers on the edge of their seats.
Tangled Webs by Lee Bross
London, 1725. Everybody has a secret. Lady A will keep yours—for a price. This sumptuous, scandalous YA novel is wickedly addictive. Lady A is the most notorious blackmailer in the city. With just a mask and a gown to disguise her, she sweeps into lavish balls and exclusive events collecting the most valuable currency in 1725 London—secrets. But leading a double life isn't easy. By day Lady A is just a sixteen-year-old girl named Arista who lives in fear of her abusive master, Bones, and passes herself off as a boy to move safely through the squalor of London's slums. When Bones attempts to dispose of his pawn forever, Arista is rescued by the last person she expects: Jonathan Wild, the infamous Thief Taker General who moves seamlessly between the city's criminal underworld and its most elite upper circles. Arista partners with Wild on her own terms in the hopes of saving enough money to buy passage out of London. Everything changes when she meets Graeden Sinclair, the son of a wealthy merchant. Grae has traveled the world, has seen the exotic lands Arista has longed to escape to her whole life, and he loves Arista for who she is—not for what she can do for him. Being with Grae gives something Arista something precious that she swore off long ago: hope. He has promised to help Arista escape the life of crime that has claimed her since she was a child. But can you ever truly escape the past?
The Stars Never Rise by Rachel Vincent
Sixteen-year-old Nina Kane should be worrying about her immortal soul, but she's too busy trying to actually survive. Her town's population has been decimated by soul-consuming demons, and souls are in short supply. Watching over her younger sister, Mellie, and scraping together food and money are all that matters. The two of them are a family. They gave up on their deadbeat mom a long time ago. When Nina discovers that Mellie is keeping a secret that threatens their very existence, she'll do anything to protect her. Because in New Temperance, sins are prosecuted as crimes by the brutal Church and its army of black-robed exorcists. And Mellie's sin has put her in serious trouble. To keep them both alive, Nina will need to trust Finn, a fugitive with deep green eyes who has already saved her life once and who might just be an exorcist. But what kind of exorcist wears a hoodie? Wanted by the Church and hunted by dark forces, Nina knows she can't survive on her own. She needs Finn and his group of rogue friends just as much as they need her
Every Last Word by Tamara Ireland Stone
If you could read my mind, you wouldn't be smiling. Samantha McAllister looks just like the rest of the popular girls in her junior class. But hidden beneath the straightened hair and expertly applied makeup is a secret that her friends would never understand: Sam has Purely-Obsessional OCD and is consumed by a stream of dark thoughts and worries that she can't turn off. Second-guessing every move, thought, and word makes daily life a struggle, and it doesn't help that her lifelong friends will turn toxic at the first sign of a wrong outfit, wrong lunch, or wrong crush. Yet Sam knows she'd be truly crazy to leave the protection of the most popular girls in school. So when Sam meets Caroline, she has to keep her new friend with a refreshing sense of humor and no style a secret, right up there with Sam's weekly visits to her psychiatrist. Caroline introduces Sam to Poet's Corner, a hidden room and a tight-knit group of misfits who have been ignored by the school at large. Sam is drawn to them immediately, especially a guitar-playing guy with a talent for verse, and starts to discover a whole new side of herself. Slowly, she begins to feel more "normal" than she ever has as part of the popular crowd . . . until she finds a new reason to question her sanity and all she holds dear.
Last Year's Mistake by Gina Ciocca
Before: Kelsey and David became best friends the summer before freshman year and were inseparable ever after. Until the night a misunderstanding turned Kelsey into the school joke, and everything around her crumbled—including her friendship with David. So when Kelsey's parents decided to move away, she couldn't wait to start over and leave the past behind. Except, David wasn't ready to let her go… After: Now it's senior year and Kelsey has a new group of friends, genuine popularity, and a hot boyfriend. Her life is perfect. That is, until David's family moves to town and he shakes up everything. Soon old feelings bubble to the surface and threaten to destroy Kelsey's second chance at happiness. The more time she spends with David, the more she realizes she never truly let him go. And maybe she never wants to. Told in alternating sections, LAST YEAR'S MISTAKE is a charming and romantic debut about loving, leaving, and letting go.
Alive by Chandler Baker
After years on the transplant waiting list, she's running out of hope that she'll ever see her eighteenth birthday. Then, miraculously, Stella receives the transplant she needs to survive. Determined to embrace everything she came so close to losing, Stella throws herself into her new life. But her recovery is marred by strange side effects: Nightmares. Hallucinations. A recurring pain that flares every day at the exact same moment. Then Stella meets Levi Zin, the new boy on everyone's radar at her Seattle prep school. Stella has never felt more drawn to anyone in her life, and soon she and Levi are inseparable. Stella is convinced that Levi is her soul mate. Why else would she literally ache for him when they are apart? After all, the heart never lies…does it?
To Hold The Bridge by Garth Nix
A short story collection, including an Old Kingdom novella, from New York Times bestselling author Garth Nix! Far to the north of the magical Old Kingdom, the Greenwash Bridge Company has been building a bridge for almost a hundred years. It is not an easy task, for many dangers threaten the bridge builders, from nomad raiders to Free Magic sorcerers. Despite the danger, Morghan wants nothing more than to join the Bridge Company as a cadet. But the company takes only the best, the most skillful Charter mages, and trains them hard, for the night might come when only a single young cadet must hold the bridge against many foes. Will Morghan be that cadet? Also included in this remarkable collection are eighteen short stories that showcase Nix's versatility as he adds a fantastical twist on an array of genres including science fiction, paranormal, realistic fiction, mystery, and adventure.
Deadfall by Anna Carey on June 16th
In the compelling sequel to Blackbird, Anna Carey delivers a gritty and adrenaline-filled story of a girl desperate to escape her mysterious and terrifying assailants. Told in second person, this heart-pounding thriller puts the reader in front of the target. A week ago, you woke up in Los Angeles with no memory of who you are. The only thing you knew: people are trying to kill you. You put your trust in Ben, but he betrayed you and broke your heart. Now you've escaped to New York City with a boy named Rafe, who says he remembers you from before. But the two of you are not safe. The same people who are after you are tailing Rafe as well. As the chase heats up, your memory starts to return, but your past cannot save you from the terrifying circumstances of your present, or the fact that one wrong move could end this game forever. With enemies on every side, and not a reprieve in sight, Deadfall will grab readers and refuse to let go. Perfect for fans of the Maze Runner series and the Legend series.
Deadly Design by Debra Dockter
Genetically engineered identical twins Kyle and Connor McAdams were born two years apart. Their parents figured it was safer that way, to increase their odds of survival. Connor was born first, paving an impossibly perfect path for Kyle to follow. He was the best at everything—valedictorian, star quarterback etc. Kyle never thought he'd be able to live up, so he didn't even try. But when Connor, 18, suddenly drops dead of a heart attack, and Kyle learns of other genetically modified kids who've also died on their eighteenth birthdays, he's suddenly motivated—to save his own life. Like Connor and all the rest, Kyle was conceived at the Genesis Innovations Laboratory, where the mysterious Dr. Mueller conducted experiments on them. The clock's ticking as Kyle searches for answers: who was Dr. Mueller really, and what did he do to cause their hearts to stop at eighteen? He must unravel the clues quickly, before, he too, becomes another perfect, blue-eyed corpse.
Spelled by Betsy Schow
Fairy Tale Survival Rule #32: If you find yourself at the mercy of a wicked witch, sing a romantic ballad and wait for your Prince Charming to save the day.

Yeah, no thanks. Dorthea is completely princed out. Sure being the crown princess of Emerald has its perks—like Glenda Original ball gowns and Hans Christian Louboutin heels. But a forced marriage to the brooding prince Kato is so not what Dorthea had in mind for her enchanted future.

Talk about unhappily ever after.

Trying to fix her prince problem by wishing on a (cursed) star royally backfires, leaving the kingdom in chaos and her parents stuck in some place called "Kansas." Now it's up to Dorthea and her pixed off prince to find the mysterious Wizard of Oz and undo the curse…before it releases the wickedest witch of all and spells The End for the world of Story.
Joyride by Anna Banks
A popular guy and a shy girl with a secret become unlikely accomplices for midnight pranking, and are soon in over their heads—with the law and with each other—in this sparkling standalone from NYT-bestselling author Anna Banks.

It's been years since Carly Vega's parents were deported. She lives with her brother, studies hard, and works at a convenience store to contribute to getting her parents back from Mexico.

Arden Moss used to be the star quarterback at school. He dated popular blondes and had fun with his older sister, Amber. But now Amber's dead, and Arden blames his father, the town sheriff who wouldn't acknowledge Amber's mental illness. Arden refuses to fulfill whatever his conservative father expects.

All Carly wants is to stay under the radar and do what her family expects. All Arden wants is to NOT do what his family expects. When their paths cross, they each realize they've been living according to others. Carly and Arden's journey toward their true hearts—and one another—is funny, romantic, and sometimes harsh.
Alright! Those are just a few of the awesome books coming out this month and I'll see you back here soon. I hope you have a great rest-of-your day!