Hey guys! It's Tuesday, which means I have yet another Top Ten Tuesday! Top Ten Tuesday is hosted by The Broke And The Bookish. This week it is the Top Ten Book I Plan To Have In My Beach Bag This Summer. Here are my choices.
10. Sweet Little Lies by Lauren Conrad
Jane Roberts was the average girl next door until she and her best friend, Scarlett Harp, landed their own hit reality show, L.A. Candy. But life on camera is getting complicated. . . .

When racy photos of Jane are leaked to the press, she becomes the center of a tabloid scandal. She turns to costar Madison Parker for help, but does Madison really have Jane's back?

Scarlett's got a scandal of her own. She's fallen for a guy who's strictly off-limits—which means Scarlett has a big secret to keep. But nothing stays secret for long in Hollywood.

In television star Lauren Conrad's dishy, entertaining novel about young Hollywood, the lies are only as sweet as the people telling them.
9. Before I Fall Lauren Oliver
With this stunning debut novel, New York Times bestselling author Lauren Oliver emerged as one of today's foremost authors of young adult fiction. Like Jay Asher's Thirteen Reasons Why and Gayle Forman's If I Stay, Before I Fall raises thought-provoking questions about love, death, and how one person's life can affect so many others.

For popular high school senior Samantha Kingston, February 12—"Cupid Day"—should be one big party, a day of valentines and roses and the privileges that come with being at the top of the social pyramid. And it is…until she dies in a terrible accident that night.

However, she still wakes up the next morning. In fact, Sam lives the last day of her life seven times, until she realizes that by making even the slightest changes, she may hold more power than she ever imagined.
8. The Secrets Of My Hollywood Life by Jen Calonita
What if… Your picture was taped inside teenage boys' lockers across America, your closets were bursting with never-worn designer clothing, and the tabloids constantly asked whether you were losing your "good girl" status?

It's a glamorous life, but sixteen-year-old Kaitlin Burke, costar of one of the hottest shows on TV, is exhausted from the pressures of fame. Then she hits on an outrageously daring solution, one that has to remain top secret or it will jeopardize everything she's ever worked for.
7. North Of Beautiful by Justina Chen Headley
As he continued to stare, I wanted to point to my cheek and remind him, But you were the one who wanted this, remember? You're the one who asked-and I repeat-Why not fix your face?

It's hard not to notice Terra Cooper.

She's tall, blond, and has an enviable body. But with one turn of her cheek, all people notice is her unmistakably "flawed" face. Terra secretly plans to leave her stifling small town in the Northwest and escape to an East Coast college, but gets pushed off-course by her controlling father. When an unexpected collision puts Terra directly in Jacob's path, the handsome but quirky Goth boy immediately challenges her assumptions about herself and her life, and she is forced in yet another direction. With her carefully laid plans disrupted, will Terra be able to find her true path?

Written in lively, artful prose, award-winning author Justina Chen Headley has woven together a powerful novel about a fractured family, falling in love, travel, and the meaning of true beauty.
6. Suite Scarlet by Maureen Johnson
Scarlett Martin has grown up in a most unusual way. Her family owns the Hopewell, a small Art Deco hotel in the heart of New York City. When each of the Martins turns fifteen, they are expected to take over the care of a suite. For Scarlett's fifteenth birthday, she gets both a room called the Empire Suite and a permanent guest named Mrs. Amberson. Scarlett doesn't quite know what to make of this C-list starlet and world traveler.

And when she meets Eric, an astonishingly gorgeous actor who has just moved to the city, her summer takes a second unexpected turn.

Before the summer is over, Scarlett will have to survive a whirlwind of thievery and romantic missteps. But in the city where anything can happen, she just might be able to pull it off.
5. The Truth About Forever by Sarah Dessen
A long, hot summer…

That's what Macy has to look forward to while her boyfriend, Jason, is away at Brain Camp. Days will be spent at a boring job in the library, evenings will be filled with vocabulary drills for the SATs, and spare time will be passed with her mother, the two of them sharing a silent grief at the traumatic loss of Macy's father.

But sometimes, unexpected things can happen—things such as the catering job at Wish, with its fun-loving, chaotic crew. Or her sister's project of renovating the neglected beach house, awakening long-buried memories. Things such as meeting Wes, a boy with a past, a taste for Truth-telling, and an amazing artistic talent, the kind of boy who could turn any girl's world upside down. As Macy ventures out of her shell, she begins to wonder, Is it really better to be safe than sorry?
4. A Little Friendly Advice by Siobhan Vivian
A wonderful debut for any teen with friendship issues (i.e. all of them)

Ruby's turning sixteen . . . but the day doesn't turn out to be as sweet as it's supposed to be. Her long lost father shows up, and Ruby doesn't want to have anything to do with him. Instead, she wants to hang out with her friends – loyal Beth, dangerous Katherine, and gossipy Maria. They have plenty of advice for her – about boys, about her dad, about how she should look and what she should be feeling. But really, Ruby doesn't know what to think or feel. Especially when a new boy comes into the picture . . . and Ruby discovers some of her friends aren't as truthful as they say.
3. Imaginary Girls by Nova Ren Suma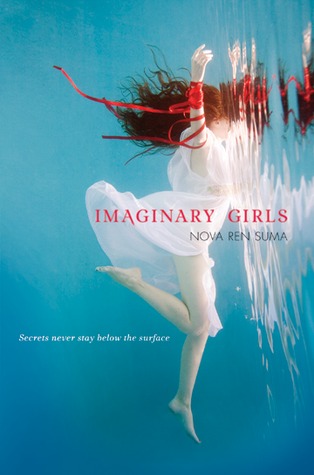 Chloe's older sister, Ruby, is the girl everyone looks to and longs for, who can't be captured or caged. When a night with Ruby's friends goes horribly wrong and Chloe discovers the dead body of her classmate London Hayes left floating in the reservoir, Chloe is sent away from town and away from Ruby.

But Ruby will do anything to get her sister back, and when Chloe returns to town two years later, deadly surprises await. As Chloe flirts with the truth that Ruby has hidden deeply away, the fragile line between life and death is redrawn by the complex bonds of sisterhood.

With palpable drama and delicious craft, Nova Ren Suma bursts onto the YA scene with the story that everyone will be talking about.
2. The Boy Book by E. Lockhart
Here is how things stand at the beginning of newly-licensed driver Ruby Oliver's junior year at Tate Prep:

Kim: Not speaking. But far away in Tokyo.

Cricket: Not speaking.
Nora: Speaking–sort of. Chatted a couple times this summer when they bumped into each other outside of school–once shopping in the U District, and once in the Elliot Bay Bookstore. But she hadn't called Ruby, or anything.
Noel: Didn't care what anyone thinks.
Meghan: Didn't have any other friends.
Dr. Z: Speaking.
And Jackson. The big one. Not speaking.

But, by Winter Break, a new job, an unlikely but satisfying friend combo, additional entries to The Boy Book and many difficult decisions help Ruby to see that there is, indeed, life outside the Tate Universe.
1 The Book Of Luke by Jenny O'Connell
Emily Abbott has always been considered the Girl Most Likely to Be Nice — but lately being nice hasn't done her any good. Her parents have decided to move the family from Chicago back to their hometown of Boston in the middle of Emily's senior year. Only Emily's first real boyfriend, Sean, is in Chicago, and so is her shot at class valedictorian and early admission to the Ivy League. What's a nice girl to do?

Then Sean dumps Emily on moving day and her father announces he's staying behind in Chicago "to tie up loose ends," and Emily decides that what a nice girl needs to do is to stop being nice.

She reconnects with her best friends in Boston, Josie and Lucy, only to discover that they too have been on the receiving end of some glaring Guy Don'ts. So when the girls have to come up with something to put in the senior class time capsule, they know exactly what to do. They'll create a not-so-nice reference guide for future generations of guys — an instruction book that teaches them the right way to treat girls.

But when her friends draft Emily to test out their tips on Luke Preston — the hottest, most popular guy in school, who just broke up with Josie by email — Emily soon finds that Luke is the trickiest of test subjects . . . and that even a nice girl like Emily has a few things to learn about love.